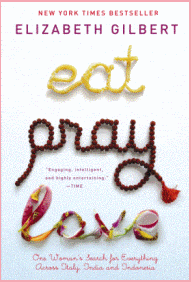 Gelesen in Englisch.
[INHALT]
Gilbert (The Last American Man) grafts the structure of romantic fiction upon the inquiries of reporting in this sprawling yet methodical travelogue of soul-searching and self-discovery. Plagued with despair after a nasty divorce, the author, in her early 30s, divides a year equally among three dissimilar countries, exploring her competing urges for earthly delights and divine transcendence. First, pleasure: savoring Italy's buffet of delights--the world's best pizza, free-flowing wine and dashing conversation partners--Gilbert consumes la dolce vita as spiritual succor. "I came to Italy pinched and thin," she writes, but soon fills out in waist and soul. Then, prayer and ascetic rigor: seeking communion with the divine at a sacred ashram in India, Gilbert emulates the ways of yogis in grueling hours of meditation, struggling to still her churning mind. Finally, a balancing act in Bali, where Gilbert tries for equipoise "betwixt and between" realms, studies with a merry medicine man and plunges into a charged love affair. Sustaining a chatty, conspiratorial tone, Gilbert fully engages readers in the year's cultural and emotional tapestry--conveying rapture with infectious brio, recalling anguish with touching candor--as she details her exotic tableau with history, anecdote and impression. (credits)
[MEINE MEINUNG]
Ich hab mich durch das Buch gekämpft und dann voller Enttäuschung den Film gesehen. Ich glaube das Einzige was ich mitnehme sind die ganzen neuen Vokabeln, die ich gelernt habe, weil ich englische Bücher versuche nur auf Englisch zu lesen.
Elizabeth Gilbert schreibt schön, aber irgendwie hab ich nichts dabei empfunden, wenn sie ganz wülstig von ihren Erfahrungen gesprochen hat.
Für mich war es eine Erlösung, als sie endlich in Indonesien war und über ihre neue Liebe berichtet hat. Vielleicht bin ich einfach zusehr auf Chic Lit getrimmt, wenn ich in biografisch geschriebenen Büchern jedes Mal nach dem unnahbaren Märchenprinzen suche und darauf hoffe das sie ihn am Ende doch bekommt.